THE NEW MULTI PASSENGER FIN-OMINAL
The New Fin-Ominal is a Custom Built State Of The Art 50 Foot Sport Fisherman with speeds up to 30 knots. We can now comfortably accommodate up to 15 fisherman for a fishing charter. We can also host any pleasure or business cruise for up to 23 passengers.
(Fin-Ominal ) Phenomenal Sport Fishing
Inshore and Offshore Fishing at its Finest!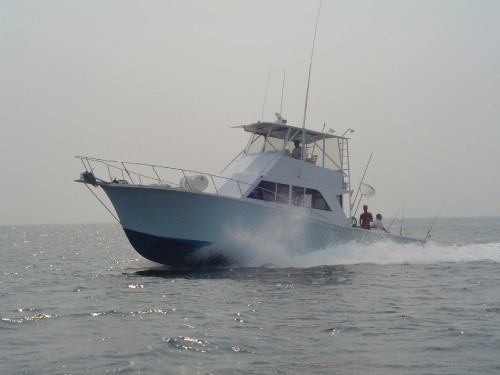 Fluke | Flounder | Bluefish  | Blackfish | Sea Bass | Stripers | Tuna | Shark | Marlin | Swordfish
From the most experienced to the smallest children, our Belmar Fluke and Sea Bass Charters are by far your best catch aboard Fin-Ominal. Fluke / Summer Flounder and Sea Bass are pretty easy to catch which makes it almost impossible to ever go home empty handed. Fin-Ominal also targets Stripers which is known as NJ #1 sought after Sport Fish. It's the thrill catching these fish you bring home to eat instead of buying the same piece of fish from a store.

Sharking From Belmar NJ

 

 

 


There are many different species of sharks in the North Atlantic Ocean. But only one shark jumps clear out of the water when angling them on rod & reel... The Mako Shark.

Fishing aboard Fin-Ominal on shark excursions you will be sure to catch blue sharks, thresher sharks and mako sharks along possibly with a hammer head sharks.
There is no explaining the feeling of the sheer power and agility of NJ Offshore Sharks until you reel up a 100 - 850 lber.
A sure lifetime experience with this Charter Fishing Experience.
Blue Fish Charters Belmar


 If you want the best fighting inshore Belmar Charter Fishing on rod and reel.. bluefish by far is the best fish to go out and catch. Bluefish range in size from 4 - 20 lbs. and travel in large schools. So as the Captain puts you on the fish, there are hundreds to catch all day.

If you enjoy reel screaming and pole bending action this inshore hunt is for you.

Canyon Sport Fishing for Tuna


From the first time to the last time....Canyon Fishing From Belmar will make you want to be out there in the canyons again and again. From yellow fin, blue fin, long fin albacor, big eyes and wahoo to giant tuna, the canyon is the place to be.

There are also blue and white marlin, swordfish, sharks and mahi mahi at the canyon. Canyon Fishing ultimately is New Jersey's best big game fishing grounds

Offshore Canyon Tuna From Belmar

(Fin-Ominal ) Phenomenal Sport Fishing